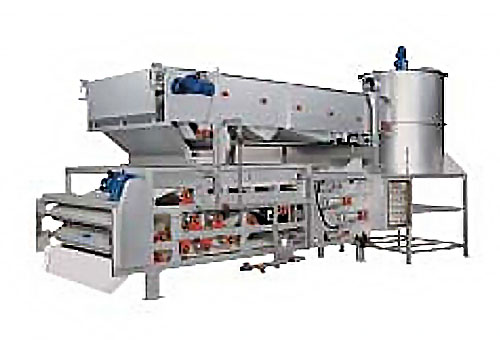 The number of clicks:
Release date:

2019/01/08
Detailed description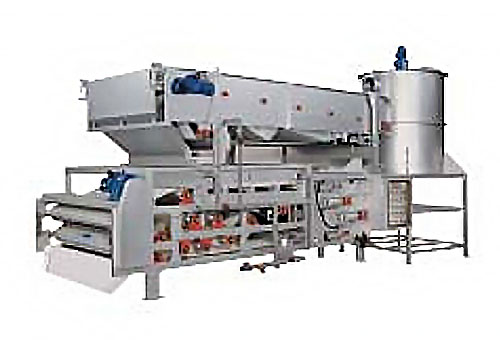 Belt width:500mm-3000mm
Treating capacity:0.05/m3h-125m3/h
Material:SUS304
Application:

The sludge dewatering for various wastewater treatment plants. The sludge dewatering for slaughterhouse,stock farm,city sewer and water purifying plant. The sludge dewatering for foodstuff industry, chemical industry, and so on.

Feature:
MULTI-FUNCTION CONTROL PANEL
Outdoor type, equipped with 2 layer front covers, waterproof and with protection to damp, safe for the operator. Installed on machine top, convenience for operation.
SOLENOID VALVE STORAGE BOX
Separately installed in its own box seat, resist to water and moisture, solenoid valves are perfectly protected.
CHEMICAL DISPOSAL AND REACTING SYSTEM
Sludge solution and Polymer are injected to the bottom of the disposal tank, and then complerely mixed by agitator. Being reacted by Polymer, sludge becomes compact flocks which will be easier for dehydration. Flocks overflow to the Centrifugal Mud/Water Separating & Condensing Drum for next stage of treatment. Disposal Tank is installed on top of machine frame, the result of disposal and polymer dosing could be easily observed from its open top.
TENSION ADJUSTING SYSTEM AND DEFLECTION CORRECTION SYSTEM FOR FILTER CLOTHS
Tension force could be adjusted according to operation conditions, special pressure maintenance device is incorporated to guarantee for lowest water contents of sludge cake. Automatic tensioning device can automatically adjust the tension forces that exert on cloths. When machine stop, air cylinders of the system will shrink to release their forces, so that the cloths will not bear force in the meantime. cloths life span will be lengthened. Correction to the cloths movement deflection is achieved by incorporating co-reaction of several pairs of pneumatic sensor valves and the shifting of pneumatic cylinders. Cloths are always kept within their normal positions with help of this system. All components of the system are made of high quality materials and designs, which can make sure of the sensor reactions and preventing from electric leakage.
SLUDGE SPREAD GUIDING & ARRAYING DEVICE
Sludge flocks are arrayed evenly on central area of the filter cloths by this device. Another feature of this device is to regulate the width of flocks spreading, so that can prevent sludge flocks from over-brimming edge of cloths when squeezing.